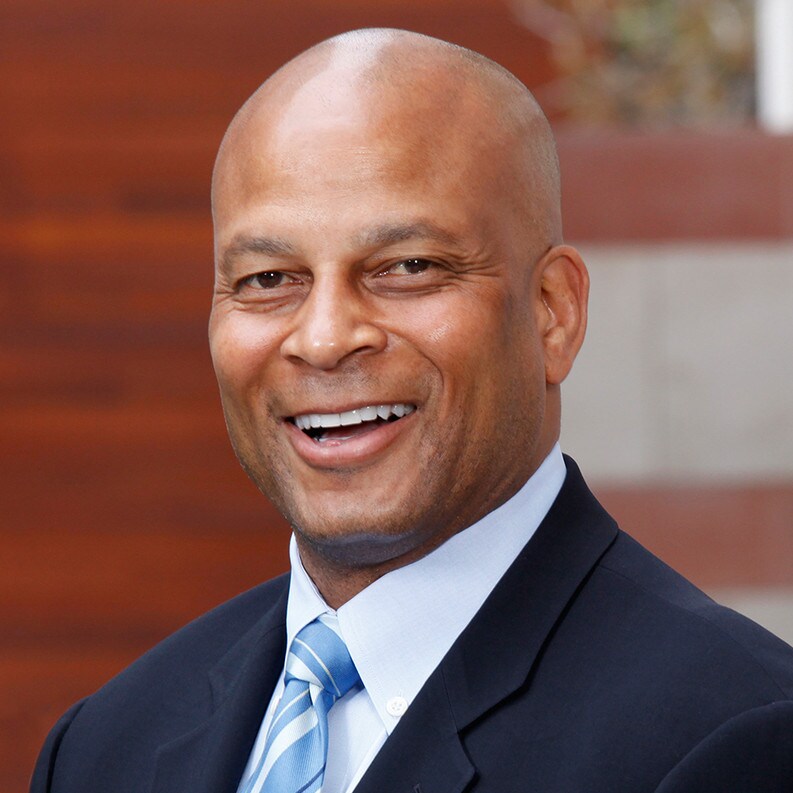 Ronnie Lott has been a champion and a leader his entire life. Over 15 years since his retirement from professional football, he continues to be revered by coaches and players of all levels for his superb dedication, constant all-out effort, incredible tackling ability, and his genuine heart and soul. He is also highly respected within the community for his long history of off-the-field philanthropic involvement.
From his early playing days at Eisenhower High School in Rialto, California, there was little doubt that Ronnie would become a football star. As a defensive back, he played with relentless passion and tenacity, and had a "sixth sense" for understanding how a play was developing and finding the football. He was notorious for breaking up passes and making precision tackles in the open field.
After graduating high school in 1977, Ronnie went on to the University of Southern California where he helped his team win the 1978 national championship as well as Pac-10 titles in 1979 and 1980. He was a unanimous All-American and team captain in 1980 and graduated in 1981 with a degree in public administration. Shortly thereafter, he became the first-round draft pick of the San Francisco 49ers. As a 6-foot-1, 203 pound rookie, Lott amazed coaches and fans alike by starting all 16 games, helping the 49ers win the Super Bowl and earning All-Pro and runner up Rookie of the Year honors (behind Lawrence Taylor).
Ronnie Lott's legendary career included four Super Bowl titles and 10 Pro-Bowl appearances. He is one of only five 49ers to play on all of the team's 1980s Super Bowl wins. He retired from professional football in 1994 after having played 10 seasons with the 49ers, plus additional years with the Oakland Raiders and New York Jets. In 1994, he was selected as the Safety for the NFL's 75th Anniversary Team He was inducted into the Pro Football Hall of Fame in 2000, and in 2002 he was inducted into the College Football Hall of Fame.
In 1999, Ronnie, along with former team-mate Harris Barton, co-founded HRJ Capital, a private equity investment manager which was recently acquired by Capital Dynamics. In 1998, prior to founding HRJ Capital, Ronnie and former teammate, Keena Turner, partnered to purchase Stan Morris Chrysler in Tracy. Ronnie and Keena sold the Chrysler dealership and then in June 2000, they were awarded a Toyota dealership (Tracy Toyota). Tracy Toyota has been awarded the prestigious Toyota President's Award in 2002 and 2003; the highest honor a Toyota dealership can receive for demonstrating a commitment to maintaining Toyota's highest standards for customer satisfaction.
In 1989, while still playing for the 49ers, Ronnie made a commitment to give back to  his community by founding All Stars Helping Kids, which supports disadvantaged youth in the Bay Area and throughout the nation. What began as a passion to better the lives of at-risk kids in the San Francisco Bay Area has grown into a movement aimed at leveling the playing field for children in low-income communities nationwide. To date, All Stars Helping Kids has raised over $20 million dollars for disadvantaged youth. In 2008, All Stars was named outstanding charity by Catholic Charities. Ronnie also serves on several non-profit boards including the Tipping Point Community and Champion Charities, the latter of which he co-founded with Harris Barton in 2004. In July 2002, Ronnie was voted into the Golden Gate Chapter of the Young Presidents Organization.
Ronnie currently resides in Cupertino, California with his wife, Karen, and three children. His eldest son, Ryan Nece, recently retired after a successful career in the NFL.