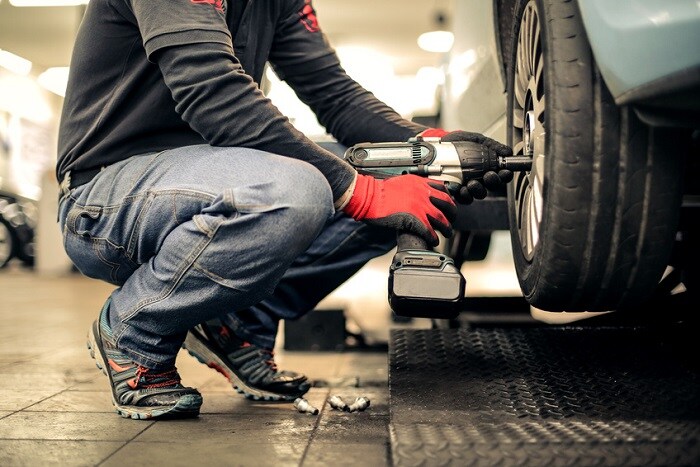 ?Your dependable Toyota car will serve you well for years and years, but that doesn't mean that you can cut corners when it comes to vehicle maintenance. At Tracy Toyota, we're not just a Toyota dealership. We're also a Toyota service center staffed by skilled mechanics who have the knowledge and replacement auto parts you need to keep your vehicle operating at peak performance. One of our areas of expertise is tire service, and our mechanics can perform a number of procedures that help you get the most out of these important vehicle components.
Types of Tire Services at Tracy Toyota
Your tires are one of the most important parts of your car, and they're not exactly cheap to replace. When you're driving around in your new 2020 Toyota RAV4, you want to know that your tires are keeping you safe and that they're not wearing down faster than they should be. At our service center, we'll check your tread depth to make sure that your tires are offering maximum traction, even when road conditions get rough. We'll also make sure that your tires are properly inflated. Having too much or not enough air in your tires can cause them to wear down unevenly, which means that you'll be replacing them sooner.
In addition to offering simple repairs, we can also perform a few services that extend the life of your tires. A tire rotation is when we swap the location of your tires around, helping your tires to wear down at equal rates. In many vehicles, front tires can be subject to more wear and tear. An occasional rotation every 5,000 to 10,000 miles can help even things out.
Visit Our Toyota Service Center near Stockton, CA
If you're a driver near Stockton, CA and you're looking for a reliable Toyota service center near you, your questions have been answered. Talk to our experts at Tracy Toyota today and see how easy it is to get the tire service, or other routine maintenance, that you need for your vehicle. We hope to see you soon!