Sell Your Car to - Tracy Toyota

WE MAKE IT EASY FOR YOU TO SELL US YOUR CAR
If you have a vehicle - a car, truck, SUV or van - that you want to sell, call Tracy Toyota first. You'll find out that giving us a call may make the most sense, and the least hassle for you!

Come see our Car Buying Specialist, Fauzia Bokhari. She is specially trained to get you a fair appraisal for your vehicle. On top of that, you'll find her exceptionally pleasant and easy to work with! And don't forget, we buy all brands of vehicles including Honda, Ford, Nissan, BMW, Mercedes and more. And of course we buy pre-owned Toyotas!
Call Fauzia Bokhari today on 209-834-1111 or email her at fbokhari@tracytoyota.com
WE MAKE IT EASY FOR YOU TO SELL US YOUR CAR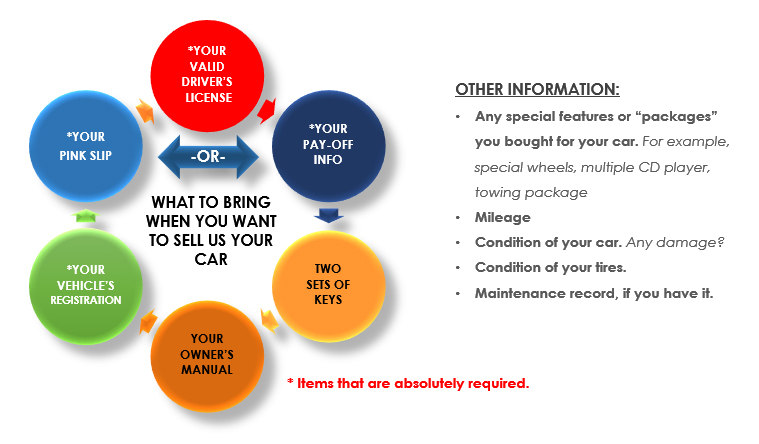 >>> Still not sure what to bring? Call or email Fauzia Bokhari and she'll personally help you!
WHY IT'S A GOOD IDEA TO SELL YOUR CAR TO TRACY TOYOTA
Why sell to Tracy Toyota instead of selling your car yourself? As one of the largest an established dealership Bay Area dealership, we'e always looking for good quality pre-owned vehicles to purchase, recondition, and offer for re-sale. Because we do the repairs and upgrades at our site, we can get more out of your vehicle. Additionally:
We make selling your car to Tracy Toyota simple and friendly. Fauzia Bokhari, our Car Buying Specialist is committed to getting the best deal possible from us in a friendly, welcoming, but also very knowledgeable manner.
You sell directly to the dealership - no more wasting time posting ads or taking calls from or meeting with potential buyers.
We provide you unbiased market-based estimates of the value of your vehicle from vAuto, a trusted, impartial name in the industry.
You don't need an appointment to get an appraisal on the vehicle you want to sell, just bring it in. Or if you would rather have an appointment, just use the form to the right to make one.
Our appraisers are experienced professional, trained in trained in using the latest vehicle appraisal tools for determining your vehicle's fair market price...and your appraisal is FREE OF CHARGE, with absolutely no obligation for you to sell us the car.
When you sell us a vehicle, there is absolutely no obligation to buy or lease another vehicle from us.
Tracy Toyota takes care of the paperwork for you, so you don't have to:
- Deal with DMV
- Worry that unfiled transfer paperwork makes you liable for other people's
actions after you sell the car or truck.


Fill out the form to the right and find out how easy it is for us to help you sell the vehicle you no longer need and get cash in your pockets!